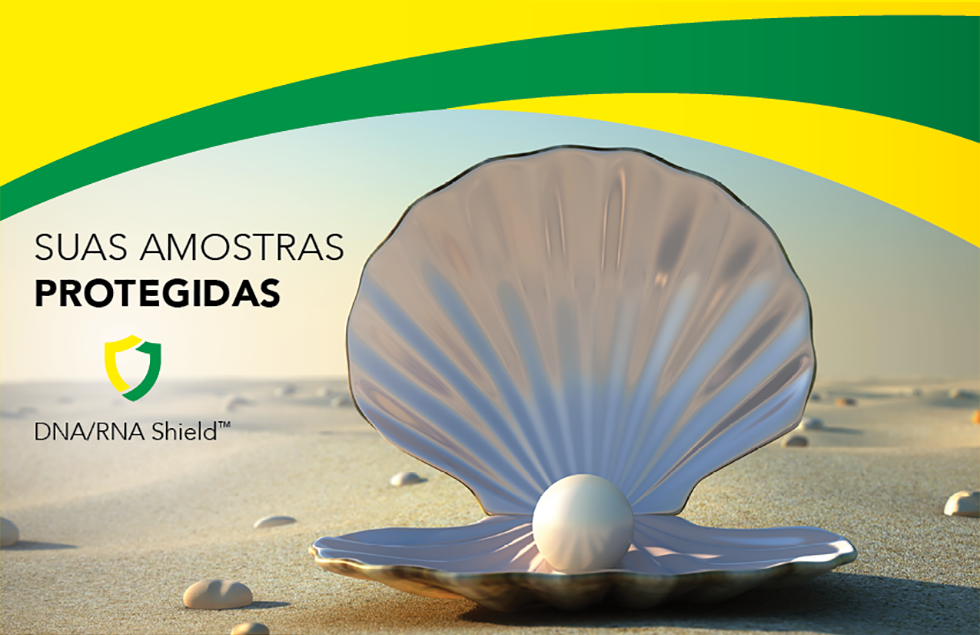 Meio para o transporte e preservação de DNA/RNA
Para qualquer tipo de amostra biológica sem a necessidade de resfriamento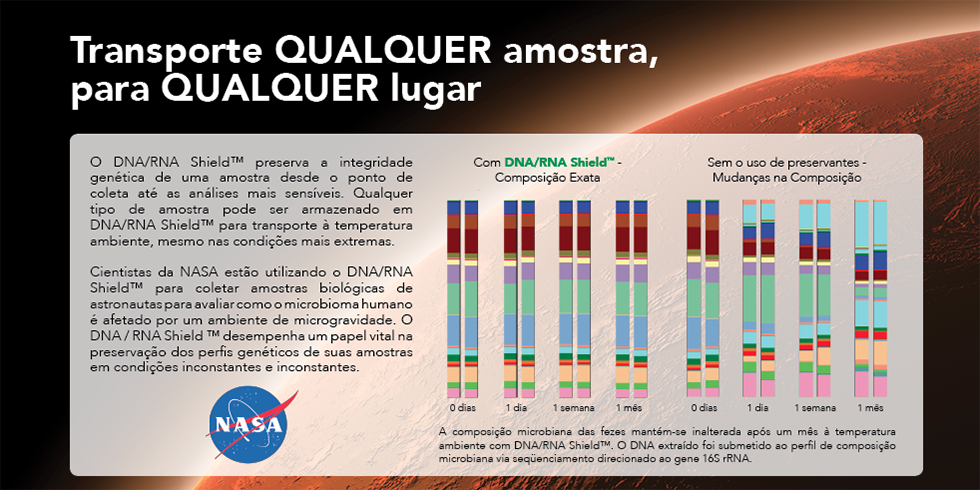 Segurança em todos os níveis
O DNA/RNA Shield™ lisa e efetivamente inativa os patógenos em uma amostra. Isso inclui micróbios ou vírus difíceis de serem lisadas sem a necessidade de etapas adicionais, como tratamento térmico, homogeneização ou esterilização com álcool.
O DNA/RNA Shield™ foi rigorosamente testado para garantir sua capacidade de inativar até mesmo os vírus mais difíceis. Em um estudo independente, a atividade virucida mostrou inativar o parvovírus murino.1 O DNA / RNA Shield ™ obedece às diretrizes do Center for Disease Control (CDC) para a inativação de patógenos.

Tranquilidade
Proteja suas amostras durante problemas em seu sistema de refrigeração
A prática mais comum nos dias de hoje para armazenar espécimes biológicos, seja a curto ou a longo prazo, é o uso de freezers. Infelizmente, os freezeres não são imunes a falhas por várias razões - as mais comuns são as mecânicas e as causadas por quedas de energia. Sabemos que aqui no Brasil é muito comum falhas causadas por problemas na rede elétrica.
DNA/RNA Shield™ proporciona tranquilidade aos cientistas, pois preserva a integridade genética mesmo sob ciclos estressantes de congelamento e descongelamento, assegurando que amostras preciosas não serão perdidas devido a tais eventos.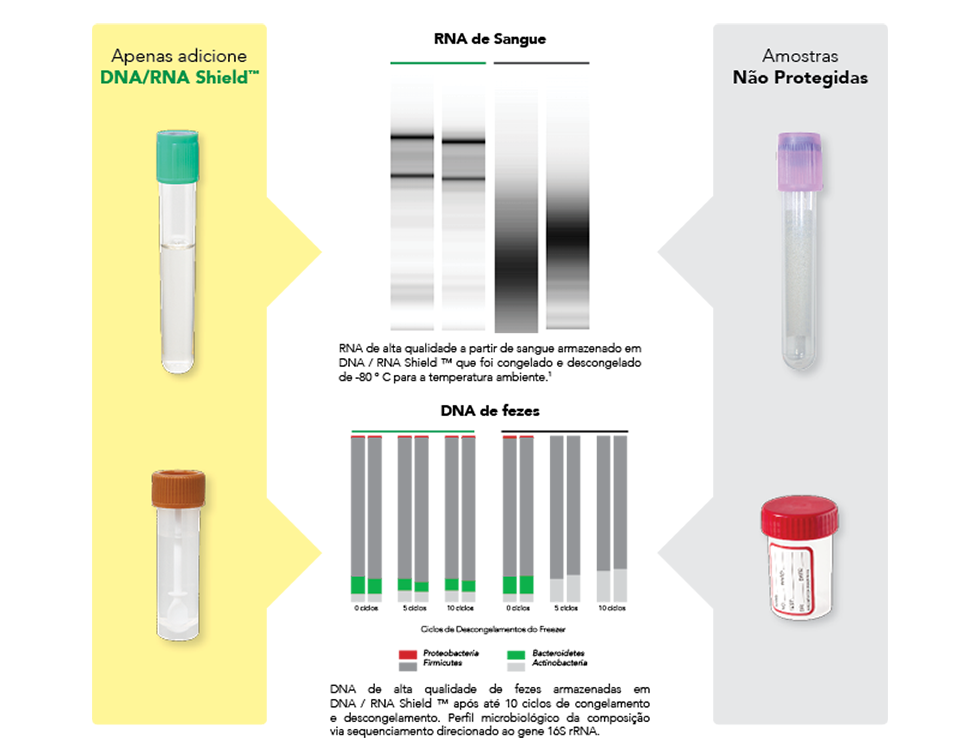 VOCÊ SABIA?
Um dos maiores repositórios de amostras de autismo do mundo sofreu uma falha no freezer em seu banco de tecidos, perdendo um terço de suas amostras. Pesquisadores relataram na época que a inestimável coleta levou mais de 14 anos para coletar e poderia definir a pesquisa sobre o autismo em uma década.
Aplicações
Virus
Detecção e Segurança
Shaman, Jeffrey, et al. "Asymptomatic summertime shedding of respiratory viruses." The Journal of infectious diseases. 2018.
Sequenciamento de Nova Geração (Next-Gen Sequencing - NGS)
Dornfeld, Dominik, et al. "SMARCA2-regulated host cell factors are required for MxA restriction of influenza A viruses." Nature Scientific reports. 2018
Diagnóstico clínico
Biomarcadores de Micro-RNA
Wu, Chung Wah, et al. "Novel approach to fecal occult blood testing by assay of erythrocyte-specific microRNA markers." Digestive diseases and sciences. 2017
Células & Moléculas
Engenharia bioquímica
DeLorenzo, D. M., & Moon, T. S. Selection of stable reference genes for RT-qPCR in Rhodococcus opacus PD630. Nature Scientific reports. 2018
Células Tronco
Paffhausen, Emily S., et al. "Discovery of a stem-like multipotent cell fate." American Journal of Stem Cells. 2018
Microbioma
NASA
McAdam, Amy, et al. "Studies of Young Hawai'ian Lava Tubes: Implications for Planetary Habitability and Human Exploration." (2017).
Saúde
Lyons, Jesse, et al. "The colonic epithelium plays an active role in promoting colitis by shaping the tissue cytokine profile." PLoS Biology. 2018.